Fitz Hugh Lane, early and late
Contemplate the tranquility of this late piece by Fitz Hugh Lane (1804 – 1865).
It's painted in glazes (thin, transparent layers). Oil paint grows increasingly transparent as it ages, which sometimes reveals details about how a work was executed. Here, for example, the background was painted first, then the foreground. After a century we can see the silhouette of the distant hills through the ship's sails. Overlaying shapes in this way avoided having to fill in a lot of niggly little bits. (Of course, one painter's niggle is another's method; Seurat, for example, dissects all shapes, large and small, foreground and background, into dots of equal presence.)
Part of Lane's genius lies in his ability to keep the eye engaged with his apparently minimal forms. Imagine if that distant boat to the right were not there. Or that sagging post and its reflection just offshore. Reflections in the water. That sweep of ripples from side to side. Or that sawback pattern of trees on Owl's Head, or the buildings on the shore to the left. No detail is dramatic, but everywhere you look there is something going on.
Lane achieved his luminist masterpieces toward the end of his life. His earlier work (example below) is robust rather than visionary. It records details for their own sake rather than disciplining them into one deftly modulated hit. The clouds are freely painted, but the clipper is not: every halyard and stay is mercilessly rendered (he must have used a straightedge and the teensyist brushes). The ship doesn't share the same light with the clouds or with the two ships on the left. The mechanical little whitecaps resemble those carpets that oppress one in hotel lobbies.
We see the same development from visual smorgasbord to lean decision in Lane's fellow luminist, John Frederick Kensett (December 10). A vast improvement in both cases.
Harnett and Peto
Last week's post included pieces by William Harnett (1848-1892) and John F. Peto (1854-1907). Here we take another look. For many years their unfashionable work was thought to be by the same person, but there are lively differences between them.
Detail decisions make a huge difference in results. Harnett aims for the trompe l'oeil ("fool the eye") effect. His colors are naturalistic, his tonal distinctions subtle and minutely observed.
Peto is bolder and less literal. He doesn't model as realistically as Harnett does. He doesn't use highlights, so his principal tones don't have to be held down to preserve contrast. His colors are brighter, his shapes flatter, his tonal gradations more abrupt. His shadows are harder and constitute positive shapes in themselves rather than merely evoking the decaying of light: compare the shadow cast by Harnett's projecting piece of paper with Peto's projecting books. Peto's effect is not so much one of objects lovingly observed but a lively, almost abstract pattern of shapes and colors.
Newer and Older
I don't know whether in the pairings below the more recent artists were influenced by the earlier ones, or whether it is simply that there are engaging subjects all around us that don't change much from century to century. These aren't the Great Themes (The Three Graces, the Last Judgment) in which the elements are dictated by tradition, but little spritzes of order and delight.
These first two are by John Frederick Peto (1854 – 1907) and Edwaert Collier (active 1663 – 1708). We don't do letter racks anymore, but they remind me of refrigerator doors & magnets–personal accumulations of the moment.
Then William Harnett (1848 – 1892) and Jan Davidsz de Heem (1606 – 1684). (De Heem did his piece when he was twenty-two. He still had a thing or two to learn about the pleasures of color, but there's plenty of variety and nicely observed detail.)
And then Joseph Cornell (1903 – 1978) and Cornelius Gijsbrechts ( c.1630 – 1675). The Cornell is an actual box with objects in it, while the Gijsbrechts is a painting of a box, but the sensibility is very similar.
Roy Lichtenstein (1923 – 1997) and Gijsbrechts again–both paintings of the backs of paintings. The joke still works after 298 years.
The San Francisco Museum of Modern Art currently has a exhibit of early Diane Arbus photos—from 1956 to 1962. According to the wall labels, this was an exploratory period for her. The variety of work shown make it clear how wide she spread her net at first, before zeroing in on her own singular vision.
A lot of this early work is unremarkable. "Jack Dracula" catches the eye because the subject is odd, not because Arbus adds insight. Other pieces depict one or another of life's common oddities. For one reason or another, perhaps half the show falls into the category of views you'd hardly notice if there weren't a Name attached.
But the other half demonstrates what makes a fine Arbus fine: the wonderful sense of community between her subject and her presence on the street. She wasn't just snapping random views—she was after what Cartier-Bresson called "the decisive moment."
Sometimes her point is intimacy, as in "Woman on the street with her eyes closed, 1956,"
or "Child teasing another, NYC, 1960." Both are moments we've seen a thousand times on the street, but not with such focus.
Sometimes, as in "Man in hat, trunks, socks and shoes, Coney Island, N.Y. 1960," the point is grotesquerie. Arbus had a real affinity for this sort of thing. But painful as the image is, it's oddly sympathetic. Being grotesque isn't the same as being ridiculous. The man is simply is as he is.
Often the point is the presence of the observer in the street, as in "Taxicab driver at the wheel with two passengers, NYC 1956."
Without that eye contact with the driver and passenger it would be just a passing taxi. But with it we have a fascinating sense of completeness: taxi, driver, passengers, the street beyond, and the viewer– the noticer and appreciator of the complex, delicious whole (the rhyming hands!).
The long captions sound like inventory descriptions rather than titles, but their effect is to emphasize the particularity of the moment.
All photos copyright the Estate of Diane Arbus
A Wonderful Bosch
Searching Google Images for something else, I came across this wonderful Hieronymus Bosch, "Witches' Sabbath." The economy of the modeling is astonishing: the figures and fish look fully 3-D, but the shapes are almost flat, with deftly chosen descriptive bits like the eye of the fish, or the shadow shape of her dress.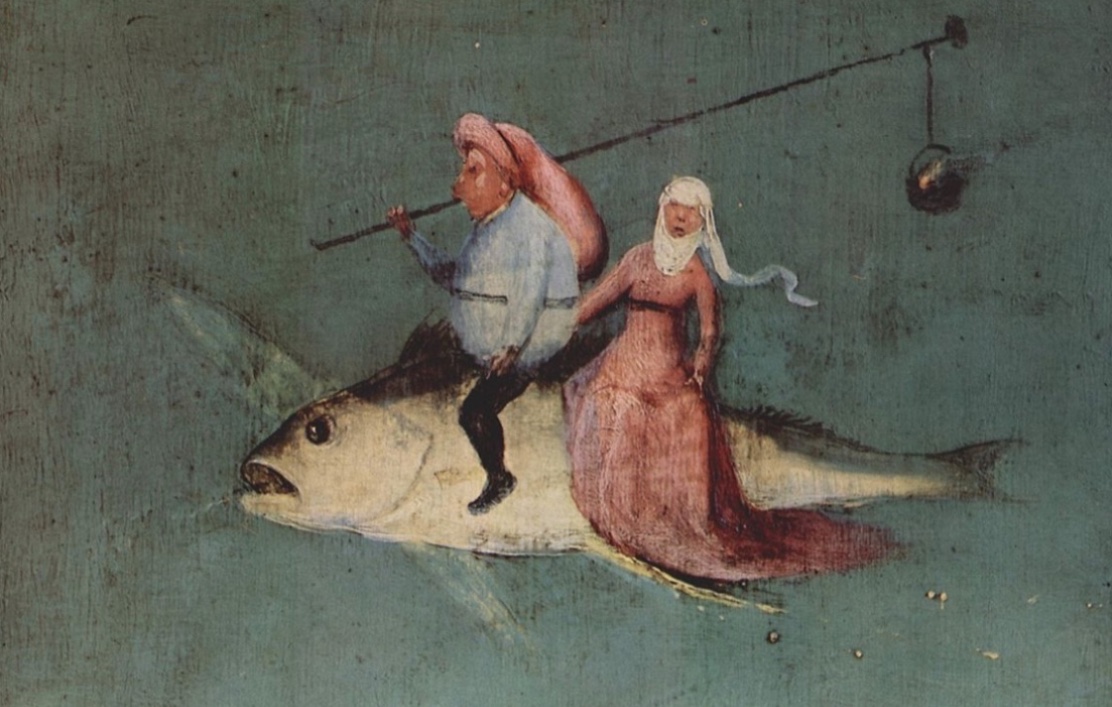 A Favorite Merian
The requirements of factual description tend to override artiness and the transient fashions of expression. Soldiers' narratives of the American Civil War, for example, are often hard to distinguish, in point of style, from the prose of the present day. Still life painting, which appeals through the appreciative observation of interesting objects, doesn't usually cry out its century.
Similarly, this wonderful piece by Maria Sibylla Merian. It's vivid and full of personality, but there's nothing about its concept or execution that interferes with its reportorial function, or advertises its date. Merian lived from 1647 to 1717. Who would think it, studying this?
Happy Discoveries
Two delightful surprises in the current show at the Berggruen gallery in San Francisco:
The first is "Arthur's Woman," below, by Willem de Kooning. I think of de Kooning's women as rather formulaic and busy busy busy, as in "Woman V," right. But "Arthur's Woman" is quite different—wonderfully relaxed and sprawling. I have no idea who the lady was, but clearly she put out all the right vibes.
It's a good-sized piece: 60 x 48". In the domestically scaled spaces at Berggruen it's a major presence in all the right ways.
Also at Berggruen, off in a quiet corner, is "Orange Sunshine" by Peter Doig.
I seldom feel the need to look twice at a Doig, but this one is lively and compelling. It's small, about 7 x 10". It hangs at that exciting border between narrative and abstraction where there is a "picture," but at the same time you never lose the flavor of the shapes and brushstrokes.
Two real paintings, two happy discoveries.
Abstract and Not
All art begins with a design for the purpose of setting up some narrative. In abstract art the narrative is inferential rather than explicit, but it's still there.
In some pieces the dividing line is blurry. The abstract Kline and narrative Turner below sit very comfortably together. In the Turner, the artist's delight is clearly in his swooping dark and light shapes. Poor Hannibal and his army along the bottom edge are relegated to providing the sense of scale.
And then this amazing Constable:
The abstract rigor of the Turner is somewhat softened by its rich color and fruity glazes, but the Constable, a study, is rougher and franker in its application of paint to surface. It isn't until you notice the tiny ships along the horizon that you get the story, the grandeur of the thing.
The artists: J.M.W. Turner, 1775-1851; John Constable, 1776-1837; Franz Kline, 1910-1962
THIS TIME, PARMIGIANINO
On November 5th I discussed a fake Frans Hals which cried fake to me, even without the testing that revealed that it included pigments that were not invented until the 20th Century. Just the look of the thing was wrong—too cool, too modern.
Then last week this image of St. Jerome, supposedly by the 16th Century Mannerist Parmigianino, turns out to be a fake, again betrayed by the presence of modern pigments.
But while the "Hals" jumped out at me, this did not. I haven't looked at enough genuine Parmigianinos to get my eye in tune. It doesn't seem wrong to me the way the "Hals" did. It just seems rather blah, whatever it might be. But enthusiasts keen to collect a famous name, even enthusiasts familiar with Parmigianino's altogether more muscular and decisive "Madonna With The Long Neck" (below), wouldn't necessarily be put off. A slack Parmigianino is still a Parmigianino. Sotheby's thought it good enough to put up for sale. Some unfortunate collector was convinced enough to fork over $672,000 for it.
($672,000! Would you rather have that painting on your wall, or $672,000 in the bank?)
Forgers, of course, feed on the appetite for the unexpected treasures that turn up from time to time, often in attics and suchlike places. Provenance of such discoveries is, naturally, obscure. All you can do is look.
Hmmm.
The background landscape is really pretty good.
And we are, after all, at no less a house than Sotheby's.
Convinced?
Sold.
Forgers delight in taunting the art world—okay, they've been caught this time, but most of the time they've gotten away with it. The bulk of their work, they chuckle, is out there in the best museums, admired by all. And no doubt, at least occasionally, this is true. And anyway, how do I know that the "Madonna" is the genuine article? Wikipedia gives it that dignity, but are we really. . . ?
For the story of this "Parmigianino," check out "Second Old Master Painting a Fake, Says Sotheby's in Lawsuit" in The New York Times, 1/17/17.