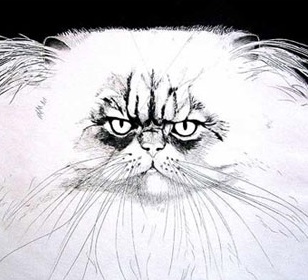 Beth Van Hoesen (1926 – 2010) embraced a wide range of images–flowers, animals, and people of all sorts, shapes, and sizes–and while she liked her subjects dramatic, her interest was in the novel design possibilities presented by dramatic subjects rather than in drama as such. Whatever her subject, her approach was always gentle and appreciative.
True, she liked her animals–cats, bunnies, whatever–to show some attitude. But while you'd think that such a propensity would carry over to her human subjects, it largely did not. The more colorful they got, the more reservedly she treated them. It's as if everyone was a favorite niece or nephew who'd dropped by for a visit, and might as well do a sitting while they chatted.
In 1965 she published a suite of twenty-five etchings titled "Nude Men." They are not glamorous, and certainly not sensational; they are straightforward portraits of men she knew and could persuade to pose for her unclothed.* She didn't flatten tummies or downplay body hair. She was after lively, personality-based silhouettes and shapes and textures in all the variety exhibited by two dozen men. But there is no hint of naughtiness, and still less of ridicule about these pieces. She isn't sniggering even a little.
Her later work got more inventive and formally stronger, but kept the domestic flavor. There is nothing confrontational or risque about the punk girl–she's a pleasant young woman who makes unconventional style choices and has taken off her shirt. If she had a downtown haircut she'd be the girl next door. The cat is more attitudinous.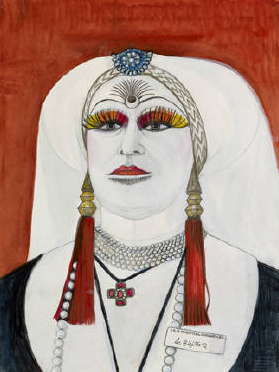 In the '90s Van Hoesen did a series on the Sisters of Perpetual Indulgence, a notable group from San Francisco's Castro district. The best of these pieces she reduced to decorative, very slightly modeled shapes (compare David Hockney's self-portrait in the Jan. 11 entry). Certainly there is eccentricity, but, oddly, not strangeness. There were these guys, y'see, and they were great starting points for novel images–things you don't see every day.
* I didn't get to know Beth till she'd moved on to other work, so she never asked me. I don't know whether I regret this or not.
For more of these images, check out the show "Beth Van Hoesen: Portraits from the Castro" at the George Krevsky Gallery in San Francisco till March 1. Go to georgekrevskygallery.com .
For other work, see Beth Van Hoesen: Catalogue Raisonne of Limited-Edition Prints, Books, and Portfolios