A FAVORITE DESMAZIERES
Eric Desmazieres (b. 1948) is one of those inward-turning artists whose work is remote from any contemporary school or fashion–Charles Mèryon (1821-68) might be the nearest influence. His prints can be more labored than inventive, but at their best, as here, there is a wonderful, dreamy focus to them.
"Ville Imaginaire II"  1999 – c. 7 x 18″   [Larry Warnock Fine Arts]
For more, enter Eric Desmazieres in Google images. And Charles Mèryon, too, while you're at it.
DENSITY IN BATTLE
One of the great blessings of my life is that I've never experienced battle—nor, for all I know, did the artists represented here. But the intense density of combatants is a recurrent and very convincing visual trope.
I'll take their word for it.
For another muse on the density and moral uplift of battle images, go to Archive, March 31, 2012.
AND SPEAKING OF MOTHERWELL . . .
In 1959, at the age of sixteen, studying baboons with my father at the Amboseli game reserve in Kenya, I encountered Eliot Elisofon (1911-73), the noted Life photographer. He was there on assignment for an article on Literary Africa. Among other things he needed a photo to match a line from Hemingway: "Three vultures squatting obscenely." As it happened, we knew where there was a fresh elephant kill–vultures galore. We took him. He got his shot. He was delighted, and for the next few days I became his guide and driver. He paid me with instruction. He composed his shots using a tripod, and when he had something going he would step aside for five seconds so I could peer through the viewfinder and see exactly what, out of all the information in front of us, he was selecting. I was at his elbow when he took the photo below.
What struck me was how tightly he composed the shot—the foreground compressed into a thin, hard shape of white ground along the bottom  supporting the dark solidity of the herd—and then that glorious cascade of light and diagonals falling from the central adult down over the standing calf and then the recumbent, contrary, watchful one, all against the loose, wavy pattern of the trees. The long telephoto lens compressed the whole into a hip, 50s-style flatness.
It was a key experience for me. Until then, art had always been distant: I'm here, and the Mona Lisa is over there. In perhaps a minute of cumulative glances over several days, Elisofon showed me how art and life happen in the same place.
But there are other lessons here. It was only years later that I happened to look at the Elisofon and Robert Motherwell's "Elegy to the Spanish Republic #57," painted at about the same time, in close proximity. Not the same thing, of course, but not quite different ones either. The longer you look, the more similarities you find. Begin with the white shape along the bottom, and the tusk shapes in both pieces.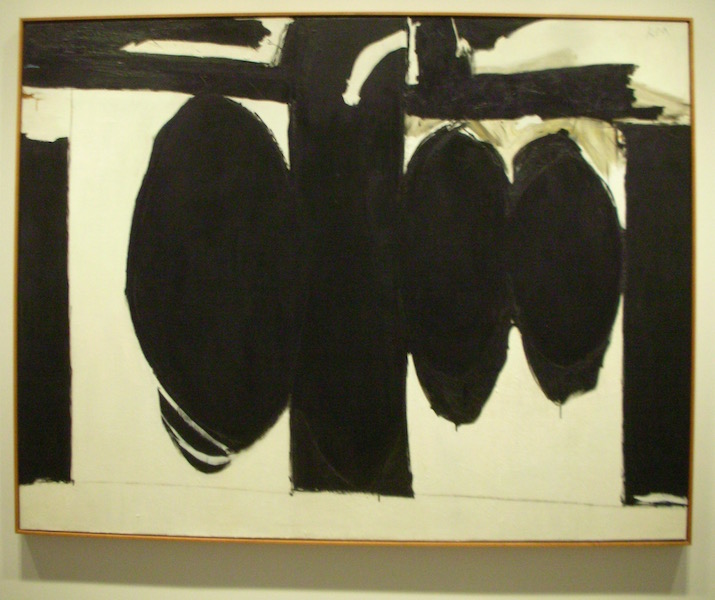 This post is a reprise of September 15, 2012
Copyright © 2016 · All Rights Reserved · Stan Washburn
MOTHERWELL, WITH CAVILS
I've long been an admirer-with-reservations about the work of Robert Motherwell (1915-91), presently the subject of a small show at the DeYoung Museum in San Francisco.
My admiration is based on his fairly early work–pieces such as "At Five In the Afternoon" from 1950,
or "Elegy to the Spanish Republic #57" from 1957-61. There is a primness about them–they haven't the sense of explosive exploration that I get from Franz Kline, for example–but they are richly worked-out paintings, with each shape, each edge, each bit of surface, live and full of tension. It's grand stuff, only imperfectly represented by these snapshots from the show. Sorry.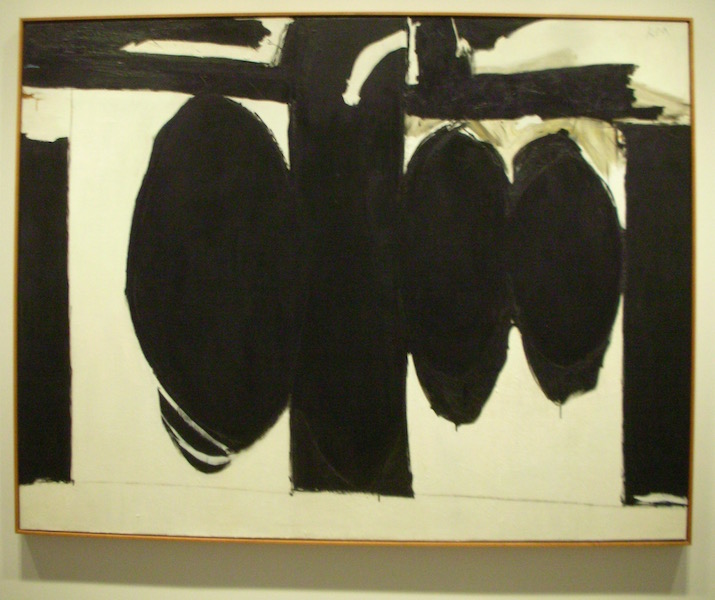 Wonderful as the paintings themselves are, I've always grumbled at the titles. "At Five in the Afternoon" refers to a poem by Frederico Garcia Lorca about the death of a famous bullfighter. Motherwell's ovals, we are told, represent the testicles of dead bulls. This information has never cranked up the emotional temperature for me. If a painting is intended to evoke a theme of some sort, it ought to be apparent without reading the wall label. That doesn't apply here. I would never have said Ah! Bull testicles! Tragic fate!

The Elegies to the Spanish Republic similarly fail to convince as historical reference. The context is broader, but it seems that we're still looking at bull testicles. This doesn't, for me, establish an elegiac mood. It seems merely a grab at something BIG so as to make the work seem somehow grander than it is. (In the entry of 6/14/15 I dinged Barnett Newman for naming a series of his rich but thematically opaque abstracts "Stations of the Cross." I mean, c'mon.)
And so many similar pieces, decade after decade! You can see the strain as Motherwell struggled to vary his signature composition of bars and ovals. Some, as here–"Untitled (Elegy)"–1970-75, are merely sketches, toying with the theme of testicles or whatever; others, as below–"Elegy to the Spanish Republic (with Lemon-Yellow Panel)"– 1971, exude sweat in a search for some variety. The last Elegy in the DeYoung show is dated 1990.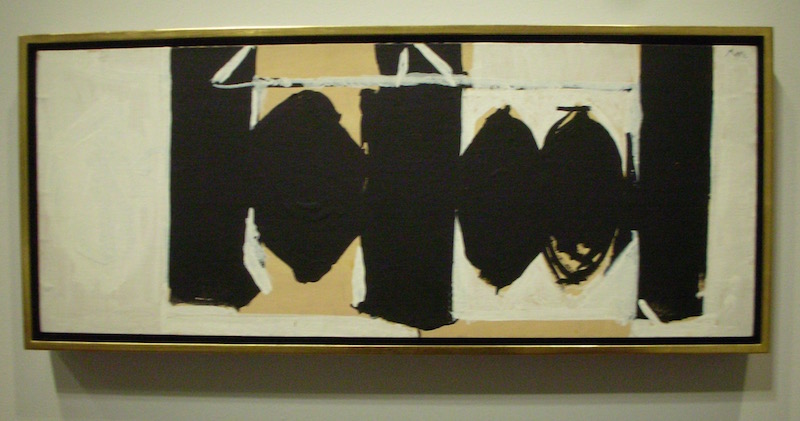 In spite of all this, of course, a fair question is whether even a less-than-first rank Motherwell is nevertheless more interesting than first-rank works by other, lesser artists. One of those questions that viewers must answer for themselves.