SEURAT THINKS TOO MUCH
In an earlier post (March 17, 2012) I lamented Georges Seurat's self-defeating application of pointillism
to large compositions. But his big, striving showpieces got mired in another, equally counter-productive weakness: his notions about emotional response to compositional devices. For example, he thought that a bouncy, upward-sweeping shape evoked joy.
In "La Chahut," which is supposed to be a joyful evocation of cancan dancers, we find the shape in the lights, the tips of the dancers' shoes, shoulders, and hats, the male dancer's coattails, the conductor's moustache, the curve of the bassist's arm and hand, and on and on. But however those little spritzes affect you, taken as a whole it's a rigid, mannered piece.
He might have looked more receptively at the posters of Jules Cheret, whose work he admired.
Or Toulouse-Lautrec. Compare Seurat's "Circus" with Lautrec's:
Seurat's "Circus" is unfinished–he was working on it when he died at the age of 31–but it is already sinking under its heavy burden of theory. Those silly bouncy shapes appear everywhere, even on the shoulders of the otherwise inert spectators.
Comparing artists is always an iffy thing, but Seurat's big pieces definitely take a back seat to Cheret or Toulouse-Lautrec, who deliver far less theory and infinitely more delight.
Which is too bad, because his smaller works stand up to anyone's. What he got so thoroughly was the reduction of shape and space to a physical and emotional essence. He should have stuck with that.
A FAVORITE: "Man and Woman at a casement" c. 1440 by Fra Lippo Lippi (1406 – 1469) in the collection of the Metropolitan Museum of Art.
At first glance, this odd work seems to depict a tete-a-tete. Their heads are the same size, as if they are the same distance from the viewer. But he's in an alcove, while she's a couple of feet into the foreground. They're looking past each other.
Which is odd. Some cultural quirk or just a stroke of whimsy? Beats me. But no miscalculation: the work is superbly constructed. And it's the magnificence of the details that keeps me looking after I've had my chuckle at the oddness.
Her face: subtly but richly modeled, and outlined with surprising frankness. The same outlining appears on his face, their hands, the edges of the molding. This permits the use of very close tones in adjacent shapes without loss of clarity.
The active poses of the hands, both his and hers. Hers, moreover, are posed so that her rings just break the line of the sill, helping to make her foreground position clear. And that coat of arms his hands rest on, besides its value as an interesting texture and in bringing three sharp darks into the lower left (cover it with your finger—that side would be pale without it), also keeps the sill from being a long, ski-jump shape from back to front, especially as it continues the road visible beyond. The coat of arms is another oddity: it fills the window; his hands cover it; so the window is barely wide enough for him to get his head in.
The road is itself a rich bit of action, its busyness emphasizing by contrast the serenity of her face. Cover it with your thumb: the interior is just a box without it.
THE MORE THINGS CHANGE . . .
The great cartoonist Herblock (Herbert Lawrence Block, 1909 – 2001) put his visual finger vividly on the sins of his time. Alas, so little has changed. We have only to adjust some of the names and faces to apply his pieces to the present day.
blah
SIMONETTA
Here we have two supposed images of Simonetta Vespucci, the great beauty of Florence in the 1470s. The one is by Sandro Botticelli, the other by Piero di Cosimo. They are not really portraits, because both were done c. 1480, while Simonetta died (at the age of 22!) in 1476, but it's hard to imagine that the two painters even had the same creature in mind as inspiration. Botticelli's Simonetta is alert, full-bosomed, straight-nosed, with a touch of sadness in the eyes and mouth. Di Cosimo's is vague in body and in mind. She seems unaware of the asp. She seems unaware of just about everything.
But while those views don't tell us much about poor Simonetta, they reveal a good deal about how the two artists organized their compositions. Botticelli liked his shapes taut and clear. Virtually every form in his Birth of Venus–figures, drapery, trees–is modeled essentially in two tones, one lighter and one darker, with sharp little darks here and there, for vivacity. In Venus' case the darker skin tone is still so light that the modeling must be very firm if the poor goddess isn't to dissolve into mush. Look at her right side–how very close in tone it is to the sky and sea beyond, but there is no confusion. Di Cosimo modeled his Cleopatra in light tones too, but he relies on dark surrounding shapes to rescue his feeble drawing.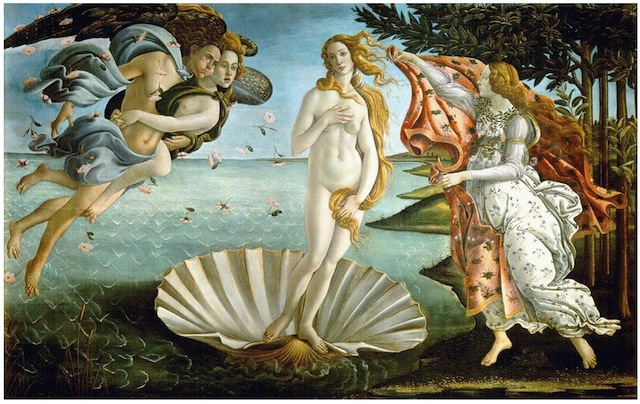 Botticelli – The Birth of Venus c. 1482  (W'pedia)
Di Cosimo's Perseus & Andromeda, below, is muddled like his Cleopatra. It has none of Botticelli's focus. It consists of busy little clumps of figures and landscape parts scattered here and there, quite innocent of unifying or focusing devices. The monster's head, for example, gets entangled in the far cliffs and little triangles of water so that you really have to study him to separate his face and tusks from all the confusion. Compare that with how clearly Botticelli's Venus stands out, or how the maiden offering the wrap is one with all the artful elaborations of fabric and hair and trees so that, while clear, and certainly attractive, she doesn't compete for attention.
I admire Botticelli immensely for his grand and suave designs, and learn something every time I look at his work. I don't admire di Cosimo a tenth as much, but I have to admit he's entertaining. This painting is sort of like a street fair where you come across first a bit of this and then a bit of that, much of it fun, some of it incoherent, and have no idea what's coming next.
Admittedly it's severe to complain when artists aren't in Botticelli's league, and in fact di Cosimo has much to recommend him. Below is his beguiling Venus, Mars, and Cupid. Once we get past the foreground, the bits of landscape and foliage and cupids seem to have been tossed in more or less at random, but the drawing of the figures is altogether firmer than the Cleopatra, and the interweaving of the figures, rabbit, armor, and so on is elegant. Venus's right breast does seem to defy both anatomy and gravity, but her nose has character. Perhaps di Cosimo has been peeking at Botticelli, or perhaps he's been thinking harder about Simonetta.
This post is a reprise of December 17, 2011.