SIMONETTA
Here we have two supposed images of Simonetta Vespucci, the great beauty of Florence in the 1470s. The one is by Sandro Botticelli, the other by Piero di Cosimo. They are not really portraits, because both were done c. 1480, while Simonetta died (at the age of 22!) in 1476, but it's hard to imagine that the two painters even had the same creature in mind as inspiration. Botticelli's Simonetta is alert, full-bosomed, straight-nosed, with a touch of sadness in the eyes and mouth. Di Cosimo's is vague in body and in mind. She seems unaware of the asp. She seems unaware of just about everything.
But while those views don't tell us much about poor Simonetta, they reveal a good deal about how the two artists organized their compositions. Botticelli liked his shapes taut and clear. Virtually every form in his Birth of Venus–figures, drapery, trees–is modeled essentially in two tones, one lighter and one darker, with sharp little darks here and there, for vivacity. In Venus' case the darker skin tone is still so light that the modeling must be very firm if the poor goddess isn't to dissolve into mush. Look at her right side–how very close in tone it is to the sky and sea beyond, but there is no confusion. Di Cosimo modeled his Cleopatra in light tones too, but he relies on dark surrounding shapes to rescue his feeble drawing.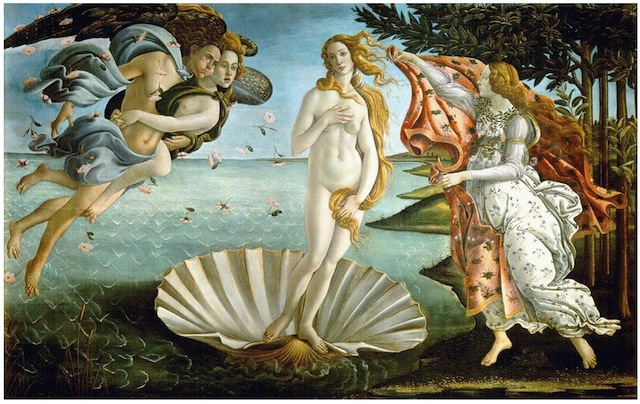 Botticelli – The Birth of Venus c. 1482  (W'pedia)
Di Cosimo's Perseus & Andromeda, below, is muddled like his Cleopatra. It has none of Botticelli's focus. It consists of busy little clumps of figures and landscape parts scattered here and there, quite innocent of unifying or focusing devices. The monster's head, for example, gets entangled in the far cliffs and little triangles of water so that you really have to study him to separate his face and tusks from all the confusion. Compare that with how clearly Botticelli's Venus stands out, or how the maiden offering the wrap is one with all the artful elaborations of fabric and hair and trees so that, while clear, and certainly attractive, she doesn't compete for attention.
I admire Botticelli immensely for his grand and suave designs, and learn something every time I look at his work. I don't admire di Cosimo a tenth as much, but I have to admit he's entertaining. This painting is sort of like a street fair where you come across first a bit of this and then a bit of that, much of it fun, some of it incoherent, and have no idea what's coming next.
Admittedly it's severe to complain when artists aren't in Botticelli's league, and in fact di Cosimo has much to recommend him. Below is his beguiling Venus, Mars, and Cupid. Once we get past the foreground, the bits of landscape and foliage and cupids seem to have been tossed in more or less at random, but the drawing of the figures is altogether firmer than the Cleopatra, and the interweaving of the figures, rabbit, armor, and so on is elegant. Venus's right breast does seem to defy both anatomy and gravity, but her nose has character. Perhaps di Cosimo has been peeking at Botticelli, or perhaps he's been thinking harder about Simonetta.

This post is a reprise of December 17, 2011.