A FAVORITE: "Man and Woman at a casement" c. 1440 by Fra Lippo Lippi (1406 – 1469) in the collection of the Metropolitan Museum of Art.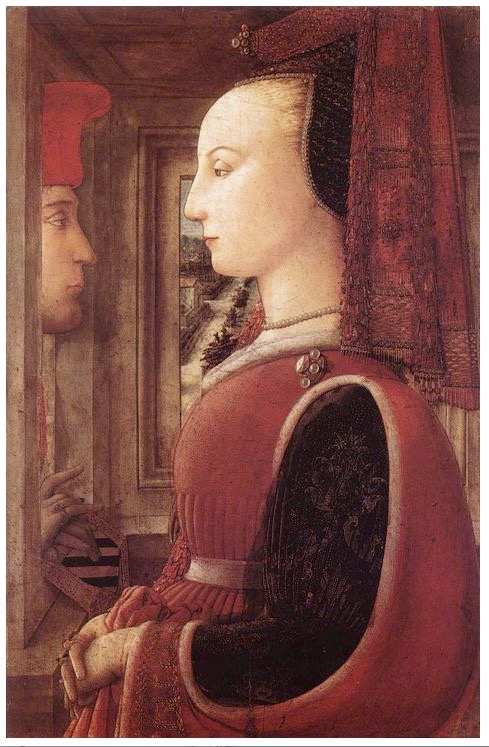 At first glance, this odd work seems to depict a tete-a-tete. Their heads are the same size, as if they are the same distance from the viewer. But he's in an alcove, while she's a couple of feet into the foreground. They're looking past each other.
Which is odd. Some cultural quirk or just a stroke of whimsy? Beats me. But no miscalculation: the work is superbly constructed. And it's the magnificence of the details that keeps me looking after I've had my chuckle at the oddness.
Her face: subtly but richly modeled, and outlined with surprising frankness. The same outlining appears on his face, their hands, the edges of the molding. This permits the use of very close tones in adjacent shapes without loss of clarity.
The active poses of the hands, both his and hers. Hers, moreover, are posed so that her rings just break the line of the sill, helping to make her foreground position clear. And that coat of arms his hands rest on, besides its value as an interesting texture and in bringing three sharp darks into the lower left (cover it with your finger—that side would be pale without it), also keeps the sill from being a long, ski-jump shape from back to front, especially as it continues the road visible beyond. The coat of arms is another oddity: it fills the window; his hands cover it; so the window is barely wide enough for him to get his head in.
The road is itself a rich bit of action, its busyness emphasizing by contrast the serenity of her face. Cover it with your thumb: the interior is just a box without it.