DIPPING INTO SFMOMA
The newly expanded San Francisco Museum of Modern Art exhibits a disappointing proportion of fashion-chasing dreck (Jeff Koons floating basketballs, ferheavenssake, and down from there), but there are some delights. Two examples:
A gallery devoted to the work of Bernd and Hilla Becher, consisting of several groups of closely hung, identically framed photos of similar subjects. This set of nine, "Winding Towers, Belgium, France" 1967-88, struck me particularly. This may have been because the other groups consisted of many more pieces, and tended at a little distance to dissolve into a texture. But this was my first impression. Perhaps when I go back and spend more time in that room I'll see the larger groups more intimately.
"Recordings #3 (At Sea)" 2014-16 by Jason Lazarus. It's a largish wall sprinkly hung with snapshots facing the wall so that only the annotated backs are visible. Some have just a scribbled name, some several names, some places or events. All very personal and unpretentious, all done at different times and places by different people, which the loose hanging underscores.
Then on the downside is, for example, "Love Nest" by Thomas Schutte. It's sort of a birdhouse, exactly what you see. The wall label extols it for its "whimsical quality." Really. Without the label I would never have known.
And Sherrie Levine's "Fountain (After Marcel Duchamp)." In every respect.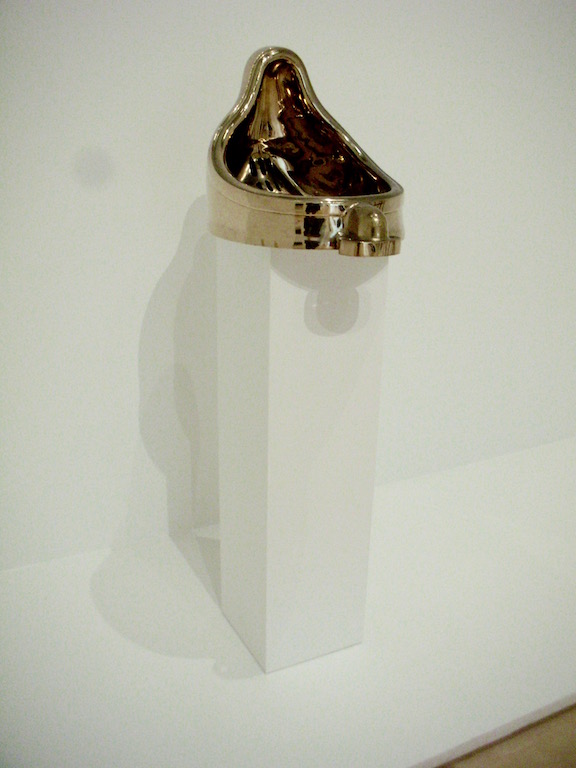 BETTER, DEFINITELY BETTER
The collapse of The New Yorker as cartoon mecca is a sad tale. There have been bright spots–Roz Chast, for example–but in general, year after year the work has gotten weaker and weaker, smaller and smaller. Lately, however, there are hopeful glimmers. Stronger artists, braver, more original stuff. An unhappy proportion of New Yorker cartoons are still exceedingly feeble, but these  examples, lifted from The New Yorker issues of July 11 and 25, are definitely in the right direction.
This piece by Antonello da Messina never fails to engage me. I suppose it's because I would love it if my own studio were as rich and cerebral as this. The elevated carrel is perhaps a little cute, and there aren't nearly enough books, but the view from the windows is delightful, the lofty ceiling is just what one wants, and the colonnade leading in on the right sets the properly dignified tone for visitors. And then there are the lion and the birds, which every studio ought to have.
Notice the size. A diminutive piece with a huge view.
This is a reprise of the entry for 11/26/11
SATURN, ONE WAY OR OTHER
Some subjects are congenial for a particular artist, while others are not. Consider–just to seize on a random example–Saturn devouring his children, and compare the approaches of Peter Paul Rubens (1577 – 1640) and Francisco Goya (1746 – 1828).
Rubens is notable in his mainstream work for the literalness of his plump nudes and fruity narratives. "The Fall of Man", for example, gives us Adam and Eve as a sharply focused, out-of-shape, middle-aged couple. Rather a flat-footed evocation of the story, but it gets the job done. A matter of taste. And Ruben's patrons ate this stuff up. An artist's gotta live.
But then we get "Saturn Devouring One of His Sons." Rubens approaches it in his usual robust manner, as if it were just one more fable. But the story is a horrible one, and the prosaic, literal representation reduces the tale of an unhinged god to no more than a grisly illustration of a glowering old guy biting the chest of a screaming child. The execution is superb—check out that shoulder, or that knee—but you can't really get into it. This is one that the story-telling Rubens would have done better to have left alone.
As opposed to the huge, mythic version by the more inward and visionary Goya, who begins with the sense of horror, and goes from there.
Saturn's body is weirdly shapeless—the action is all in the eyes and mouth. The "child" is a symbolic, doll-like grownup: a ghastly vision, but not so literal as to be repulsive. This is happening long ago and far away.
Toward the end of his life, deaf and lonely, Goya was right at home with this sort of thing. A congenial subject for him as it was not for Rubens.
( Actually, according to Wikipedia it was Cronus, and not Saturn, who did the devouring. Cronus was the Greek Titan of whom Saturn was the comparatively kinder and gentler Roman version.)
____________________________
On a slightly different note, while scouting the web you may have encountered sites that copy paintings to order, and show how the image you've been searching would look in stylish interiors. But Saturn is not, perhaps, what you'd want in the foreground of your social spaces.
Or setting the mood in the bedroom.