KENSETT EARLY AND LATE
It's hard to believe that the same artist, John Frederick Kensett (1816-1872), painted two such different pieces.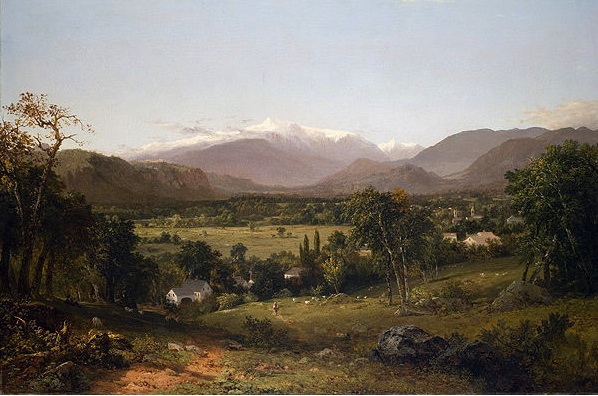 "Mount Washington" is a conventional "view" organized on a series of obliques (diagonals receding into space) beginning simultaneously at the lower right and left, shooting to the middle right, then swooping gently back and forth into the far distance. Clumps of trees on each side frame the scene and stitch the foreground to the far distance.
And then "Eaton's Neck," painted the summer before he died. It's minimal but not simple. The big shapes of sea and sky are delicately but decisively modulated, the shapes of beach and spit active and inventive. The far promontory and white sails (look carefully) catch the eye in the huge, simple shapes that surround them. "Mount Washington" is busy busy busy, meandering among its rocks and trees and sheep and houses and squishy shapes in wavery light, but "Eaton's Neck" is all tautness. It fixes the eye in one place, one moment. You can almost hear the silence.
This post is a reprise of April 28, 2012.