Newer and Older
I don't know whether in the pairings below the more recent artists were influenced by the earlier ones, or whether it is simply that there are engaging subjects all around us that don't change much from century to century. These aren't the Great Themes (The Three Graces, the Last Judgment) in which the elements are dictated by tradition, but little spritzes of order and delight.
These first two are by John Frederick Peto (1854 – 1907) and Edwaert Collier (active 1663 – 1708). We don't do letter racks anymore, but they remind me of refrigerator doors & magnets–personal accumulations of the moment.
Then William Harnett (1848 – 1892) and Jan Davidsz de Heem (1606 – 1684). (De Heem did his piece when he was twenty-two. He still had a thing or two to learn about the pleasures of color, but there's plenty of variety and nicely observed detail.)
And then Joseph Cornell (1903 – 1978) and Cornelius Gijsbrechts ( c.1630 – 1675). The Cornell is an actual box with objects in it, while the Gijsbrechts is a painting of a box, but the sensibility is very similar.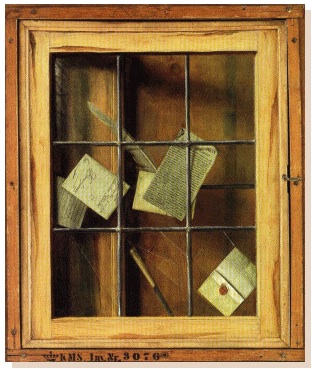 Roy Lichtenstein (1923 – 1997) and Gijsbrechts again–both paintings of the backs of paintings. The joke still works after 298 years.