TWOMBLY & REMBRANDT, LIKE/UNLIKE
Here we have two pieces–one by Cy Twombly (1928 – 2011), the other by Rembrandt van Rijn (1606 – 1669)–that begin with different intentions, but end with similar results.
The Twombly is not, at first, surprising; swirling and splashing is what his painting is about. But while it's certainly abstract, it's not quite non-representational. His swirlings have an intricate and repetitive tension about them that implies a narrative. The swoops draw the eye around and around and toward the right, while the background veil of thin vertical drips provide stability for the swirls to play against.
So: abstract, but inclining to narrative.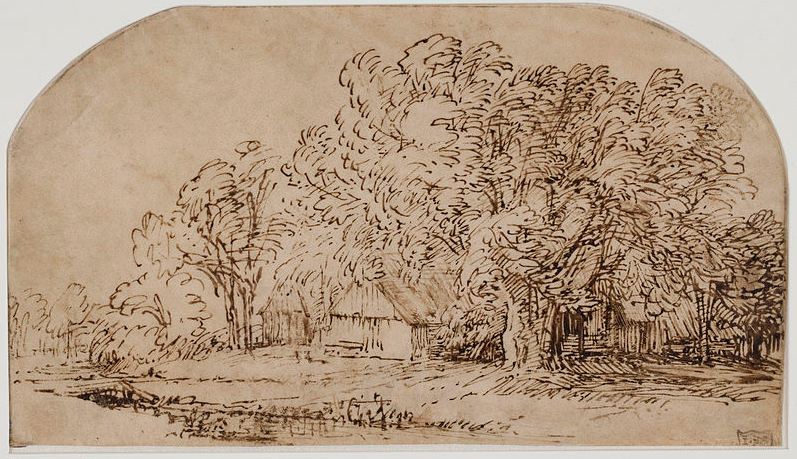 While the Rembrandt, also predominantly composed of swirls, proceeds from the opposite direction, from narrative to abstraction. We spot the subject, a view of cottage and trees, right away, but it isn't a formal illustration of picturesque cottage and tree. What Rembrandt was responding to was the lashing, constantly changing shapes as the branches whip this way and that in a strong wind blowing from left to right. It's the wildness, the disorderliness of it, that he's after. The action is in the swirls of foliage. The straight, mostly vertical lines of the cottage, and the oblique foreground ditch, provide the same still grounding that Twombly gets from his thin vertical drips. And for a contrasting negative, each artist provides a blank space beginning at the upper left–not as spacious in the Twombly as in the Rembrandt, but present in both pieces, and for the same reason.
For a discussion of similar issues with respect to Turner, Constable, and Kline, go >blog>archive>May 12, 2012: abstract and not.