SCHNABEL AT THE LEGION
A saucy challenge often underlies cultural fashion: This isn't blowhard nonsense, it's the New Real Thing! Don't you get it?
For example, "Julian Schnabel: Symbols of Actual Life" at the Palace of the Legion of Honor in San Francisco. Coming into the courtyard you are confronted by six 24-foot-square canvases (all titled "Untitled," which is perhaps just as well) and three large plaster –– well, sculptures, for want of a more mordantly descriptive term.
The intention of all this, apparently, is to immerse the visitor in the esthetic experience of Actual Life. It does not. You wouldn't look at these canvases twice if they were 24 inches instead of feet. Nor have they any resonance with the courtyard, its formal architecture, the prominent focus of the space — Rodin's "Thinker"– or Actual Life as I, at any rate, have experienced it. The excitement apparently consists of their being painted in gesso on expanses of "found fabric", and the fact that they are so daringly exposed to the elements.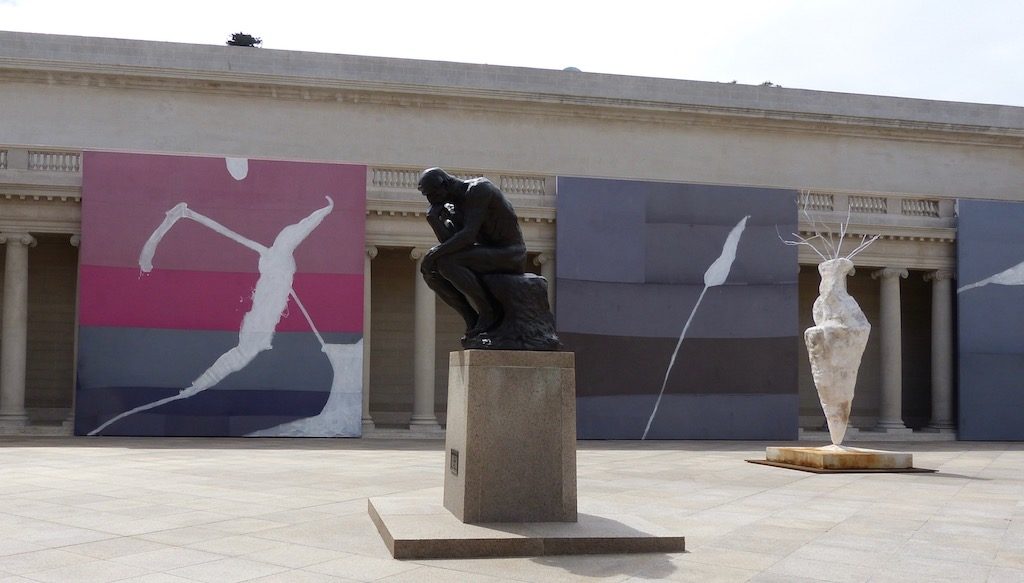 The three sculptures in the courtyard are plaster lumps. The one above, with the branches sticking up, is "Helen of Troy." The piece below is "Gradiva". Gradiva is an ancient Greek figure, "the woman who walks." Schnabel's contribution to this theme is opaque to me.
There are more pieces inside. Here, in a gallery featuring more Rodins, hangs "Untitled (The Sky of Illimitableness)": a jokey picture of a goat with silly, as if daring, swoops of paint across it.
Rodin's St. John the Baptist seems to be making a break for the exit. You can't blame him.